October 1, 2017
Piranesi will be part of the Momenta Quartet's Momenta Festival 2017. Venues TBA for the 4-day series.
August 9, 2017 at 7:30 pm
The Bridgehampton Chamber Music Festival premieres Island Nocturnes, commissioned with support from NYSCA.
May 11, 2017
Brown performs Alex Gardner's Juniper, for solo shakuhachi, and New Skin, for alto flute and electronics, on Alex's concert on Brooklyn's Musical Ecologies series.
April 1, 2017
Bronwen Kirkpatrick and the Kedumba Quartet performed Mirage, for shakuhachi and string quartet, in Wentworth Falls, Australia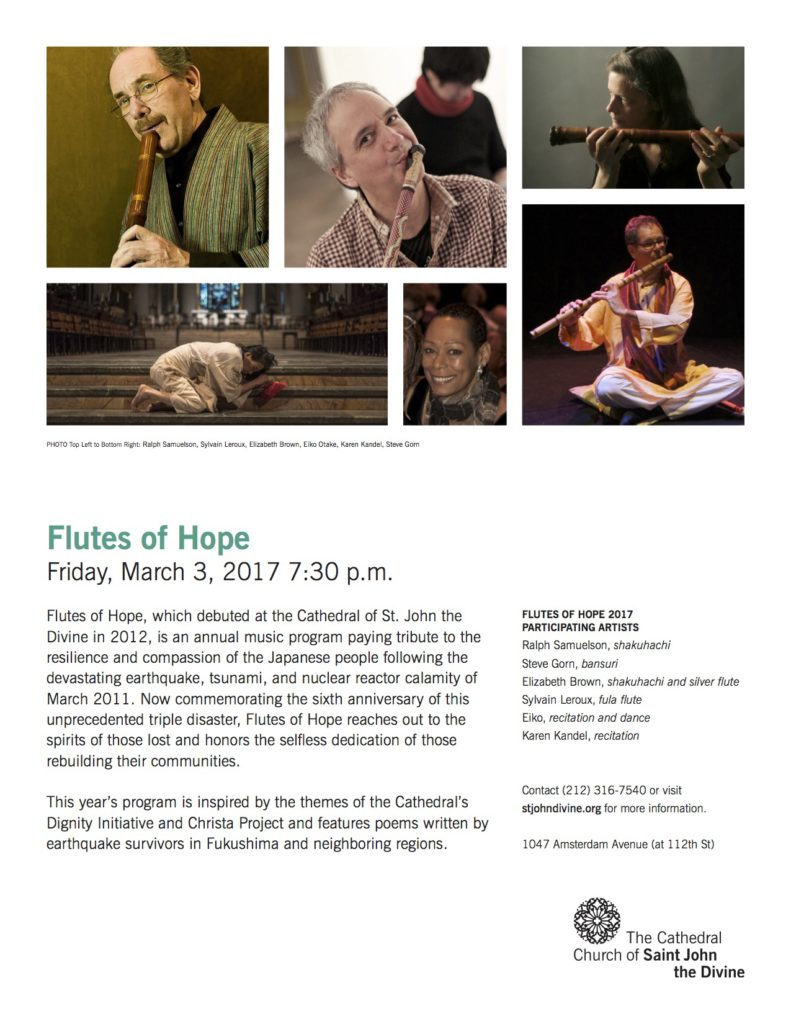 Flutist Leone Buyse performed Arcana:
Feb. 20, 2015 Oberlin College and Conservatory
Oct. 31, 2015 Univ. of Nebraska-Lincoln
Nov. 12, 2015 School of Music, Wichita State Univ.
Nov. 15, 2015 Emporia State University, Kansas
April 2, 2016 Texas Christian Univ. Flute Festival
May 8, 2016 Boston Flute Academy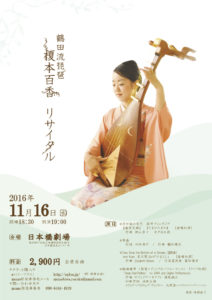 November 16, 2016 at 7 pm
Momoka Enomoto, biwa, premieres Brown's View from the Bottom of a Stream.
Text from 'Yamanashi', by Kenji Miyazawa. With Shinpei Tomita, percussion.
Nihonbashi Kokkaido, Tokyo, Japan
September 27-October 12, 2016
Japan tour: Elizabeth Brown and Ralph Samuelson, shakuhachi, and Issui Minegishi, ichigenkin.
Concerts: in Aomori, in Morioka and in Jiko Temple in Kuji (part of the Iwate Art Project)
---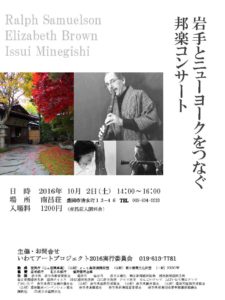 ---
and at the Hamamatsu Museum of Musical Instruments.
---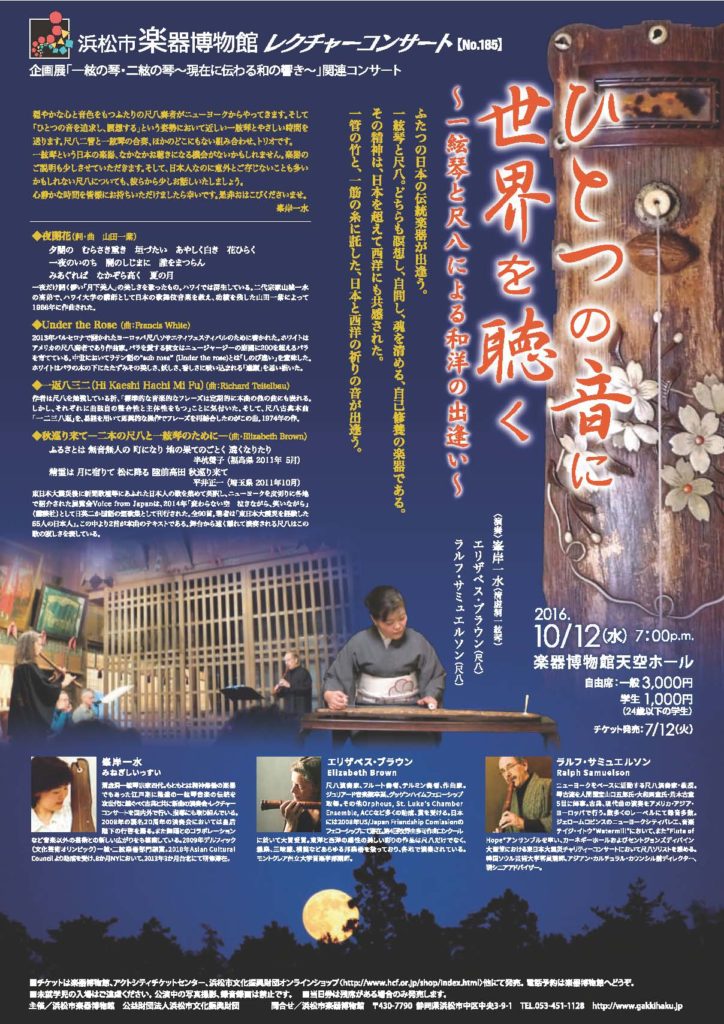 ---
September 9th, 2016 at 8 pm
Ralph Samuelson, shakuhachi, and Honjoh Hidejiro, shamisen,  performed Brown's Afterimage
on Honjoh's program "neo", Contemporary music on traditional Japanese instruments.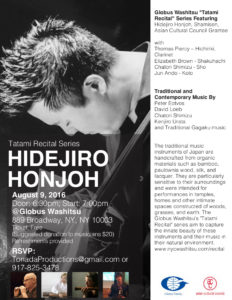 Tenri Cultural Institute of New York
43A West 13th ST, NYC 10011
tickets $20
for more information:
ktakizawa@tenri.org
k5ayusawa@gmail.com
August 15, 2016 at 4:30 pm and 6:30 pm
Bridgehampton Chamber Music Festival performed Brown's Lost Waltz
in Unfinished Business, in conjunction with the museum's current show.
Parrish Art Museum, Bridgeport
http://www.bcmf.org/season/event/2016/08/15
March 19, 2016 at 3 pm and 6 pm
Elizabeth Brown performed as thereminist in A Bookmobile for Dreamers
Gallery Sasaya
about the performance
1-1-10 Yokokawa Sumida Tokyo
tickets 4,000円
tel 03-3623-6341
Music from Japan Festival 2016
February 27th, 8 pm: The Works of Misato Mochizuki
February 28th, 2 pm: Japanese Composers in the 21st Century
Elizabeth Brown performed as flutist in both programs.
Victor Borge Hall / Scandinavia House
58 Park Avenue (between 37th and 38th streets)
New York, NY 10016
tickets, directions
February 7, 2016 at 3 pm
In collaboration with Las Américas en Concierto, the Momenta Quartet presented a concert of 20th and 21st-century works by composers of the Americas, including Brown's Nanotudes for string quartet.
http://www.momentaquartet.com/calendar/
Church of St. Luke in the Fields
487 Hudson Street
New York, NY 10014
Tickets: $15 at the door
November 22 at 4 pm
Orvis Hall, University of Hawaii Manoa
University of Hawaii Contemporary Ensemble, Thomas Osborne, director, performed Brown's Acadia.
http://www.kaimukihawaii.com/calendar/201511/12445.html
November 18-22
Elizabeth Brown plays shakuhachi in Kento Watanabe's music for JYOU EN/OF BURNING DESIRE, directed by Lee Douglas
Theater for the New City, 155 1st Avenue between 9th and 10th streets, NYC 10003
http://www.unshoutthenoise.org/#!of-burning-desire/c2414
November 16, 2015 from 3-6 pm
WKCR Radio, 89.9 FM NY
Elizabeth Brown, Ralph Samuelson, and Ned Rothenberg join host Kat Whatley for Shakuhachi Music on Afternoon New Music, a discussion about the shakuhachi's place in the modern world.
https://www.cc-seas.columbia.edu/wkcr/story/shakuhachi-music-afternoon-new-music
listen: http://tunein.com/radio/WKCR-FM-899-s30119/
November 8, 2015 at 7:30 pm
Flutist Joshua Weinberg of RenegadeEnsemble performed Brown's Arcana on the concert 'Indra's Ear'.
Studio Z, 275 4th ST E., St Paul, MN
https://www.facebook.com/RENewMusicEnsemble/
November 8, 2015 at 3 pm
Elizabeth Brown, theremin, performed her composition Arboretum with the New Britain Symphony Orchestra.
Welte Hall, 1615 Stanley ST, New Britain, CT 06051
http://newbritainsymphony.org/events/about-space/
November 2
Elizabeth Brown played theremin in Martinu's Fantasie in A Legacy of Czech Music at the 92nd ST Y, featuring the Daedelus Quartet.
http://www.92y.org/Event/A-Legacy-of-Czech-Music.aspx
NY Times Review:
http://www.nytimes.com/2015/11/04/arts/music/review-persecution-and-promise-a-whooping-and-wailing-czech-musical-evening.html?_r=0
"The varied musical works, all worthy, received fine performances. Elizabeth Brown merits special mention for doing effectively whatever it is you have to do to coax music out of a theremin."
September 27-October 17, Japan Tour
Elizabeth Brown and Ralph Samuelson, shakuhachi, and Issui Minegishi, ichigenkin presented 音故知新 one breath, one note, one string: new and traditional music for shakuhachi and ichigenkin. Program will include Brown's Shakuhachi Duets from Isle Royale, and 秋巡り来て "autumn comes round again".
September 27: Sankei-en, Yokohama, Japan
http://www.sankeien.or.jp/kokenchiku/gekkaden.html
October 1: Gallery Sasaya, Sumida, Tokyo, Japan
October 3-4: Asama Shrine, Kawaguchiko, Japan
October 10: Jikou-ji 慈光寺, Kuji, Iwate, Japan
October 11: Hamatou Hall, Morioka, Iwate, Japan
October 17: Boat Concert, Arashiyama, Kyoto, Japan
http://arashiyama-yakatabune.com/
July 11, 2015
Tokyo, Yomiuri Otemachi Hall
Pro Musica Nipponia performed Brown's Shinshoufuukei (An Imagined Landscape)
Pro Musica Nipponia
July 7, 2015
World Saxophone Congress, Strassbourg, France
Cité de la musique et de la danse, Salle 20
Dr. James Umble, saxophone, and Marilyn Shrude, piano performed Brown's Chronicle.
http://webtv.saxopen.com/event/umble-and-schrude-performance-2/
June 8, 2015
Tenri Cultural Institute, New York City
Elizabeth Brown and Ralph Samuelson, shakuhachi, and Issui Minegishi, ichigenkin presented 音故知新 one string, one breath: new and traditional music for shakuhachi and ichigenkin. Program included Brown's Shakuhachi Duets from Isle Royale, and the premiere of 秋巡り来て "autumn comes round again", as well as pieces by Frances White, Alexandra Gardner, and Richard Teitelbaum.
Read Perry Yung's review of the concert.
April 2, 2015
Red Note Music Festival, College of Fine Arts, Univ. of Illinois
Momenta Quartet performed Brown's Nanotudes.
http://finearts.illinoisstate.edu/rednote/2015events.shtml
March 23, 2015
East Tennessee State University, Johnson City, TN
Wendy Stern, flute and Emi Kagawa, piano performed Brown's Anthem.
http://www.etsu.edu/news/2015/03_mar/beyond_time.aspx
March 5, 2015
Tokyo, Kioi Hall
Orchestra Asia performed Brown's Shinshoufuukei (An Imagined Landscape)
http://orchestraasia.net/index.html